When it comes to SEO (Search Engine Optimization), there's a lot of information to take in, but we're here to break it down for you!
What is Search Engine Optimization?
If you've ever talked to someone in marketing and they mention optimizing your website, you were probably left a little overwhelmed with information overload. The best way to fully understand how to get the best results is to see it broken down and to understand what steps you can take right now, and what steps you should take with experts by your side. 
The official definition of Search engine optimization (SEO) is "the process of maximizing the number of visitors to a particular website by ensuring that the site appears high on the search engine results page (SERP)." Essentially, Search Engine Optimization is a way for you to make sure that your website is one of the first results shown on various search engines like Google or Bing through their algorithm.
The main goal of SEO is to boost your site to rank higher in these online searches. If your site isn't shown until the 2nd page, you're not going to get much site traffic.. 
How Do I Optimize?
Optimization comes in a few different stages. While a lot of it relies on the back-end of your website, there are still some steps that you can take to boost your SEO right now.
How Can I Tell If I Need SEO?
A great way to see where you stand on google is to search the following terms:
Your company name (ex: Hookd)
Your Industry and location (ex: Digital Marketing Eau Claire Wisconsin)
Your Top Service and Your Location (Google Ads Eau Claire Wisconsin)
If your website is at or towards the top, congratulations! You've likely got a really great website with all the right stuff behind it. But if your website is nowhere in sight, or you need to jump to page two, there could be a lot to gain from looking into SEO! 
 Relevant & Original Content
Increasing the amount of relevant content on your site is a great way to boost your ranking in searches. Producing blog posts, including relevant industry keywords that are relevant to what your customers are searching for, will make it more likely to find your site in the sea of Google search results that appear.
Google also pays attention to the original content's creator. So if you're going to be posting informative blogs on your site, make sure they're original and not copies of someone else's work.
Keywords are Key
Pay attention to the actual words that you are using on your site. Gone are the days when broad keywords prevail, now you get more value out of being specific. A good example would be a business that uses the keywords "Cleats", where another uses "Men's Lacrosse Cleats." The business that uses "Men's Lacrosse Cleats" are more likely to funnel people through the sales process, since it is far more specific and closer to what the searcher is looking for.
A Professional Up-To-Date Website
Let's face it, humans are impatient! When we click on a link, we want a response instantly. If it takes longer than 10 seconds to load, many users are going to go elsewhere. A faster load time means a better user experience, and Google knows this. Which is why Google's search algorithm factors your website's load time when determining your website's ranking.
If you'd like to see where your website stands, you can run your site through Google's PageSpeed Insights. It'll give you an idea of how quickly your site loads, as well as steps you can take to improve your site's performance.
You also want to make sure that once someone gets on your site, that they actually want to stay there. If your bounce rate is high (most people only view one page on your site before leaving), search engines will catch onto that and not recommend your site.
Keep Your URL's Short and Sweet
Take a look at the two example URL's below. It should be a no-brainer on which one to use! Having shorter URL's will help your visitors know that they're in the right place.
http://www.yoursite.com/team
http://www.yoursite.com/our-expert-team-we-provide-exceptional-services-to-everyone-and-their-grandmother
Page Titles That Make Sense
On the search results page on Google or Bing, the extra blue links represent individual pages from the website. Making sure these titles are descriptive and relevant to what searchers are looking for is key to making these links effective.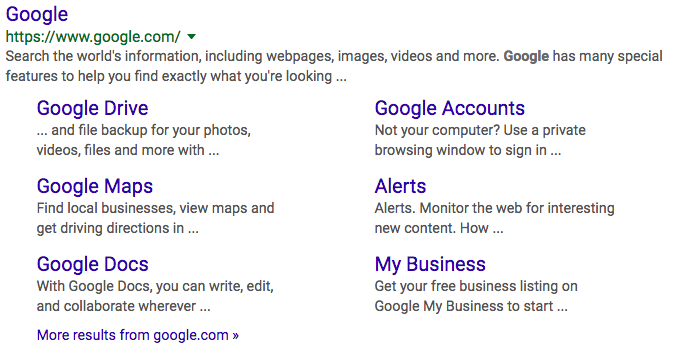 Inbound Connections
Google prioritizes showing the experts first. One way Google determines whether you're "expert-material" is based on reputable websites that link to your site. This is where we make the full-circle back to content. A great way to truly boost your SEO and credibility is to keep on creating original content. If other sites recognize the value in what you've produced, you're more likely to earn their link to your site. It's an investment of time, and you probably won't see results right away, but in the end your ranking is at stake.
SEO is not a set it and forget it type of thing. You have to stay on top of it to see results. Want to learn more about SEO and how your website can perform even better, reach out to sarah@hookdpromotions to get started!